The Best NYFW Shoe Trends We Can't Wait to Step Into
13:39 22/09/2023

The Best NYFW Shoe Trends We Can't Wait to Step Into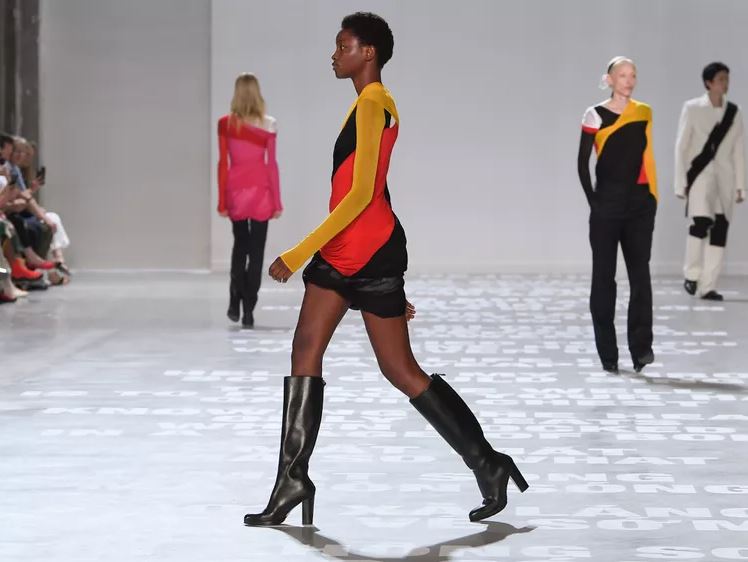 Just as we started packing up our strappy summer sandals in storage, Spring/Summer 2024 New York Fashion Week firmly put warm-weather shoe trends at the top of our minds again. While fall shoes tend towards moody colors and vampy silhouettes, spring and summer styles tend to be more playful. This year's collections are no exception: Bright colors, open-toed styles, and delicate flats were front and center on the NFYW runways.
One thing you'll be surprised — and pleased — to know? Many of the shoe trends we spotted emphasized comfort. Flatforms were everywhere, as were flat shoes in general. When sky-high heels and boots made an appearance, heel height was tempered by platform mules, a recipe for happy arches even with lots of extra inches.
Ahead, we've rounded up the best shoe trends from NYFW spring 2024. You might not be able to wear them just yet, but, as they say, there's no harm in putting your best foot forward.
Chunky Neon Sneakers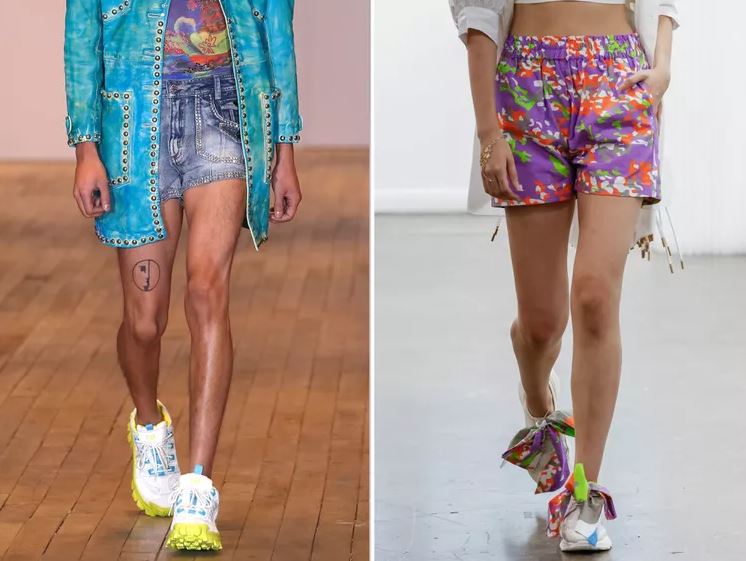 From left: Colin LoCascio, Flying Solo. 
We love an "ugly shoe," especially one that pokes a bit of fun at itself with playful colors and whimsical laces. The normcore adjacent chunky sneakers at Colin LoCascio and Flying Solo balanced streetwear style with a cheerful summer color palette thanks to ribbon laces, contrasting soles, and neon accents.
White Boots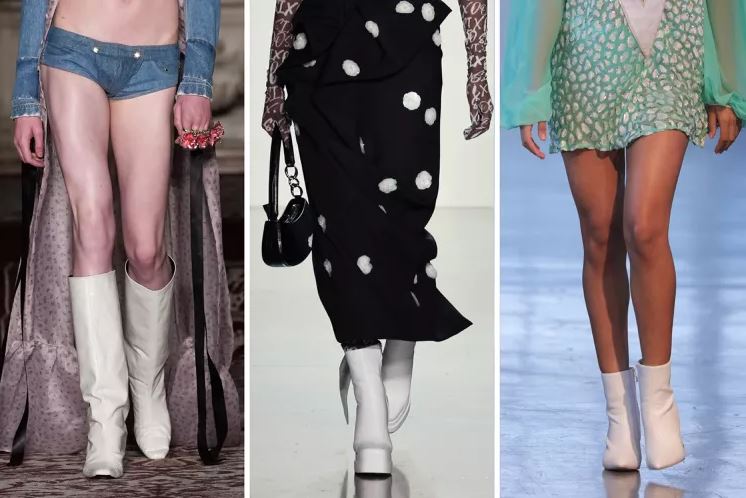 From left: Palomo Spain, Sixdo, Custo Barcelona. 
White boots aren't easy to keep clean, but they do play nicely with a range of outfits, from short-shorts to pencil skirts, as several designers demonstrated. The white boots of next spring and summer hover between ankle and knee-height and feature a boxy silhouette.
Silver Heels
From left: Libertine, Sergio Hudson. 
Delicate and strappy silver pumps and high-heeled sandals made frequent appearances on this season's runways. At Libertine, the trend took a slinky and summery approach, while Sergio Hudson went for a pointy-toe, multi-strap silhouette.
Thigh-High Boots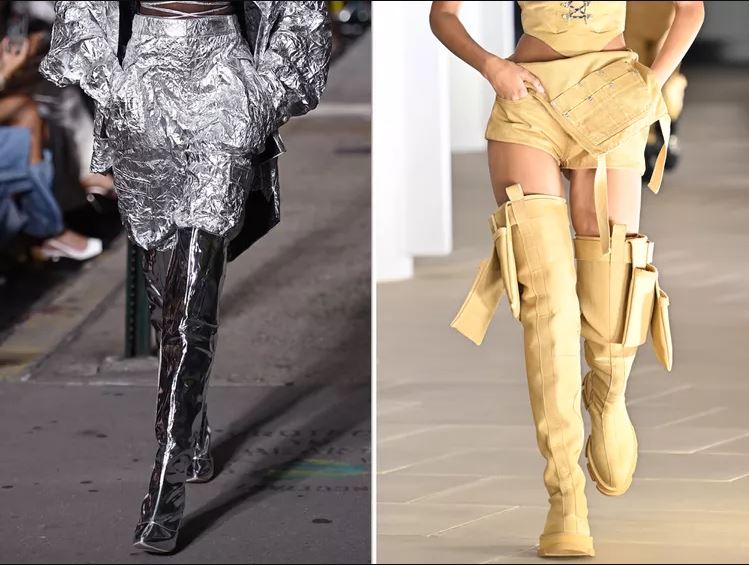 From left: LaPointe, Dion Lee. 
Thigh-high boots continued their stylish and slouchy evolution on the LaPointe and Dion Lee runways. Rather than clinging from thigh to calf, these boots featured a slouchier silhouette that offered wiggle room throughout.
Ruby Red Slippers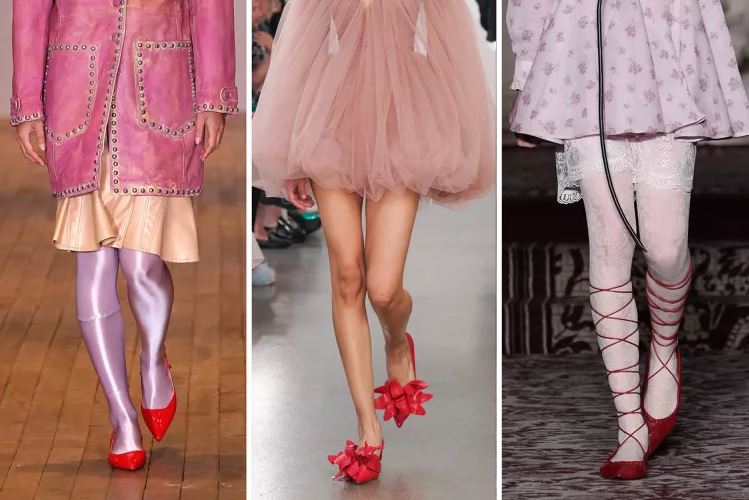 From left: Colin LoCascio, Aknvas, Palomo Spain. 
Red is one of this fall's hottest shades (pun definitely intended), and if this year's Spring/Summer '24 collections are any indication, this color trend will continue blooming next year. At Colin LoCascio, Aknvas, and Palomo Spain, bright red slippers and heels appeared in a variety of designs, from glossy flats to floral kitten heels.
Flatform Sandals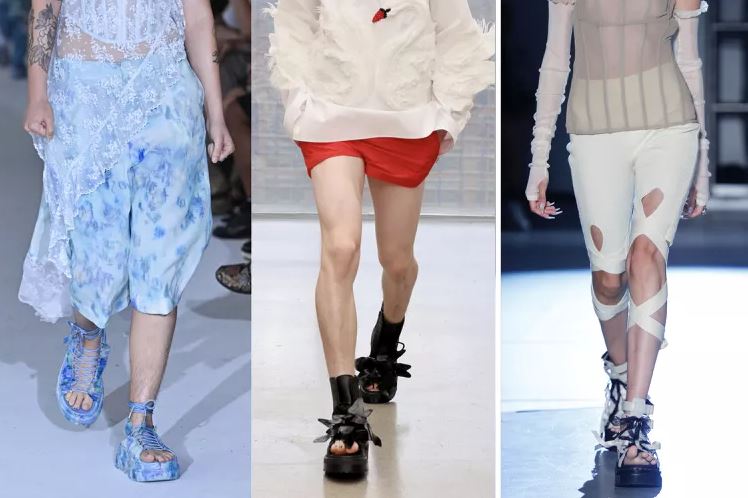 From left: Collina Strada, Aknvas, Adeam. 
Would-be utilitarian flatform sandals received a whimsical update on the runways this season. Floral appliqués and ribbons added lightness to thick-soled black sandals at Aknvas and Adeam. Meanwhile, at Collina Strada, pale blue tie-dye color palettes evoked some serious jelly sandal nostalgia.
Knee-High Flats
From left: Paloma Spain, Michael Kors. 
A surprising mashup of balletcore footwear and the gladiator sandal trend was spotted on the Paloma Spain and Michael Kors runways. Rather than ribbons, the models in the Paloma Spain runway show sported ballet-style flats with thin cords wound up their calves. At Michael Kors, gladiator sandals received a luxe and minimalist update thanks to shiny knee-high strappings.
Statement Slides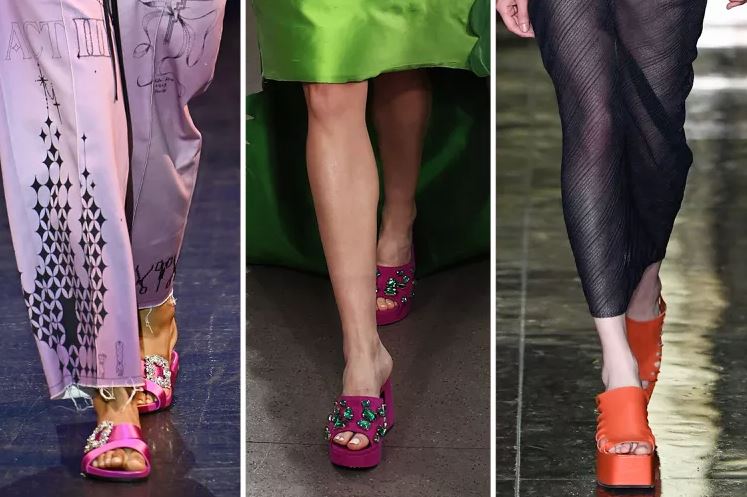 From left: Wiederhoeft, Melke, Eckhaus Latta. 
Throughout the week, slides were done up in shiny satin and a wide range of rich, jewel tones. While heel heights varied, vibrancy was consistent throughout the bejeweled and platform slide sandals spotted at shows like Wiederhoeft, Melke, and Eckhaus Latta.
Two-Tone Toes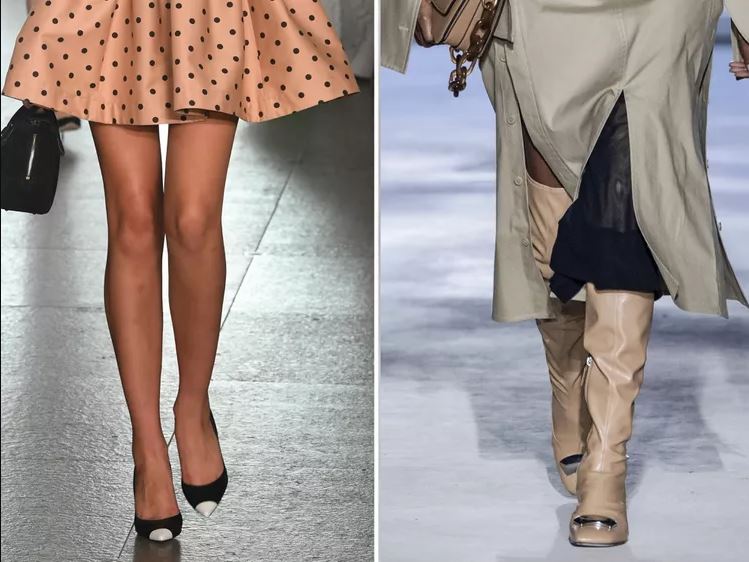 From left: Carolina Herrera, Phillip Lim. 
Steel toes, but make it fashion. At Carolina Herrera, this two-toned trend took the shape of subtle, point-toe flats. During the 3.1 Phillip Lim runway show, a nod to Victorian buttons added a referential touch to a more modern slouchy style.
Vintage Chartreuse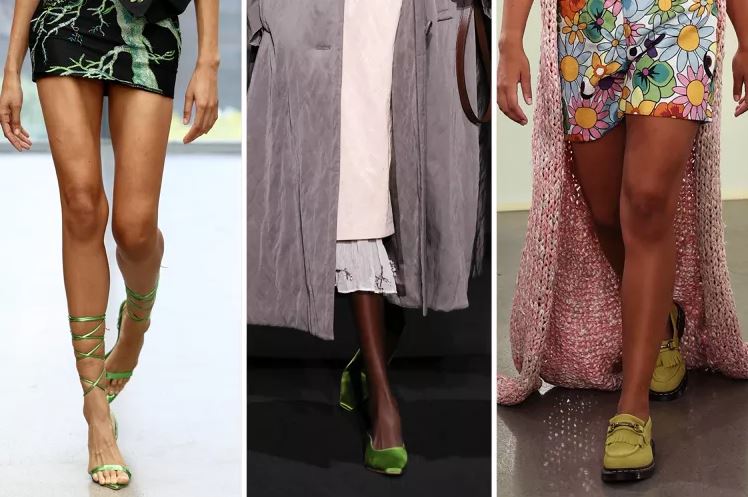 From left: Bishme Cromartie, Altuzarra, Melke. 
One of summer's celebrity favorite shades made a NYFW appearance. At Bishme Cromartie and Altuzarra, vintage chartreuse appeared as shiny leather sandals and satin flats. Meanwhile, at Melke, the bright color was softened by a suede finish on chunky loafers.
Theo: Instyle.com
Có thể bạn quan tâm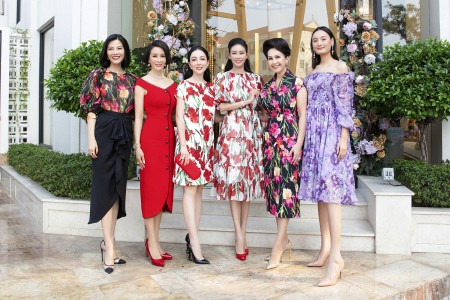 Hà Kiều Anh mở tiệc mừng trong không gian triệu đô