The Best Bag Trends of NYFW Spring 2024
11:49 22/09/2023

Amber Rambharose
The Best Bag Trends of NYFW Spring 2024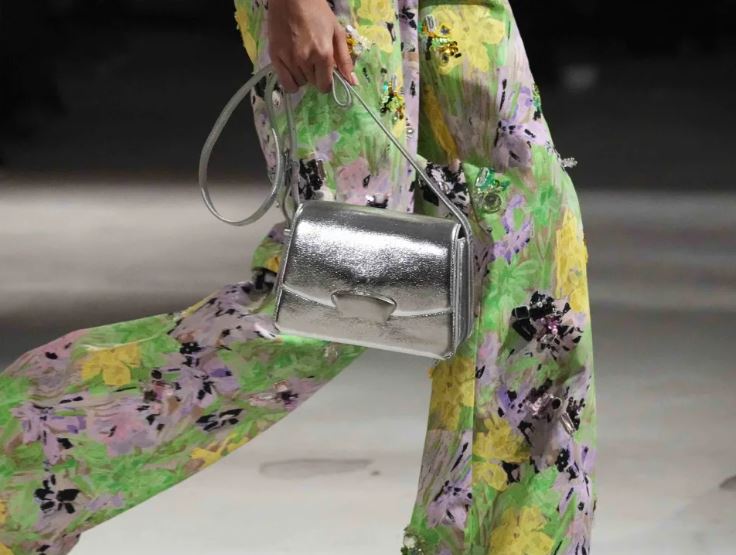 Getty Images
Bags don't always get a major moment during New York Fashion Week. Not every brand or designer that debuts a runway collection is a clothing and accessories designer, and some steer clear of including handbags altogether. Others might opt to accent their collections with simple, understated bags designed to not pull focus from the looks they accompany. In other words, scouting the best bag trends from NYFW can be a challenge — but it's a challenge we're up for, if only to find out how much smaller this year's mini-bag trend is going to go. Spoiler alert: It's still going.
Related: 14 Fall Bag Trends We Can't Wait to Wear
The 2024 Spring/Summer runway collections were accented with tote bags, crossbody purses, clutches, and handbags that built on previous trends without straying too far from what works well this time of year: metallics, florals, and timeless silhouettes. Even so, designers managed to refresh traditional and timeless accessories with updated hardware, playful sizing, and whimsical shapes and silhouettes.
Ahead, we've rounded up our favorite bag trends from among the 2024 NYFW Spring/Summer collections, so you can start planning for the year ahead.
Bag Layering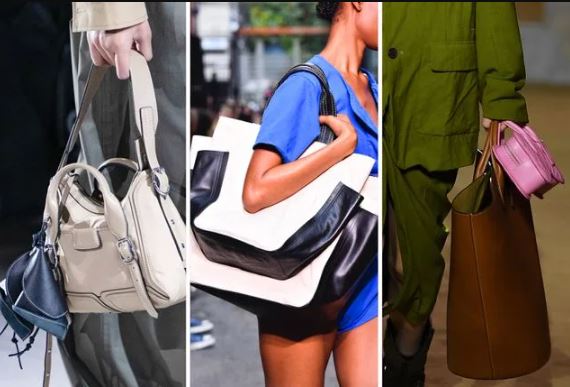 Getty Images
From left: 3.1 Phillip Lim, Rachel Comey, Coach.
We've watched mini bags get smaller and smaller, wondering what purpose they'll serve once they're too tiny to hold anything but a compact. At NYFW, labels like Coach, Kate Spade, Rachel Comey, and 3.1 Phillip Lim served solutions on the runway with models sporting not one, but two bags on their shoulders.
3D Florals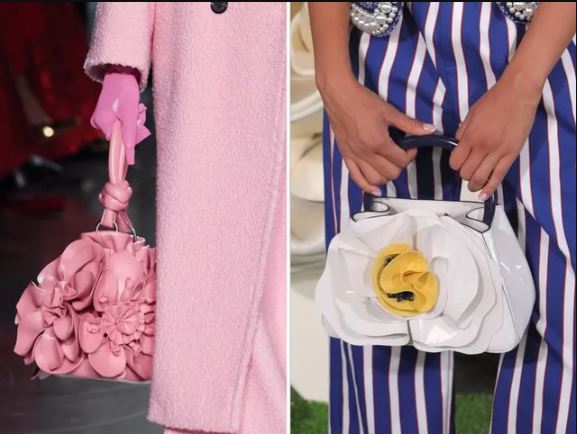 Getty Images
From left: Sixdo, Kate Spade.
It wouldn't be spring Fashion Week without a smattering of florals. This year, designers moved away from from prints and towards playful, 3D floral petals that combined the softness of ever-trendy rosettes with the whimsy of '70s flower-power patterns.
Larger-Than-Life Totes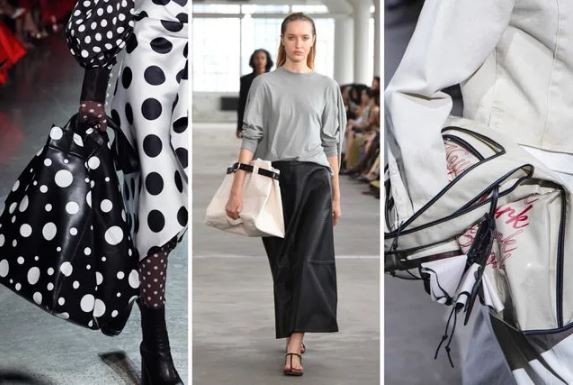 Getty Images
From left: Sixdo, Tibi, and 3.1 Phillip Lim.
The oversized tote bag trend moved into a new, slouchy direction this season. Shiny leather and neutral canvas totes in a range of soft-edged and supple silhouettes were spotted at Sixdo, Tibi, 3.1 Phillip Lim, and elsewhere.
A Focus on Fringe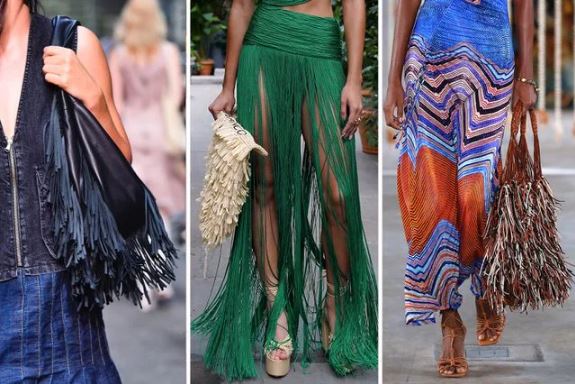 Getty Images, Sean Zanni
From left: Rachel Comey, Bronx and Banco, Ulla Johnson
XL top-handle totes received a '70s-inspired update at Rachel Comey, Bronx and Banco, and Ulla Johnson thanks to layers of all-over and seam-accenting fringe.
High-Shine Chain Straps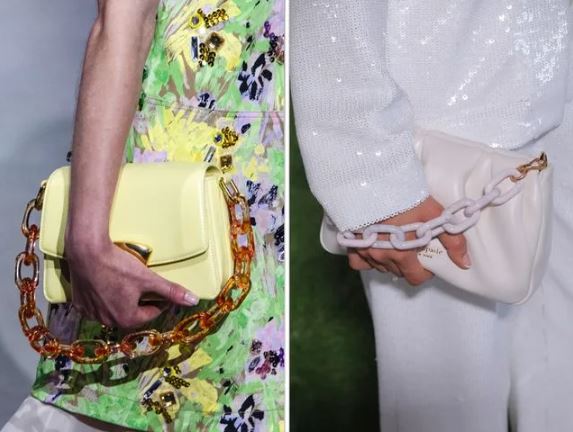 Getty Images
3.1 Phillip Lim, Kate Spade
At 3.1 Phillip Lim and Kate Spade, chain strap purses got a glossy, modern makeover. The former warmed up classic leather shoulder bags with resin chains, while there was a more monochromatic route at the latter, with chains coated in shades that matched each bag's body.
Micro-Mini Bags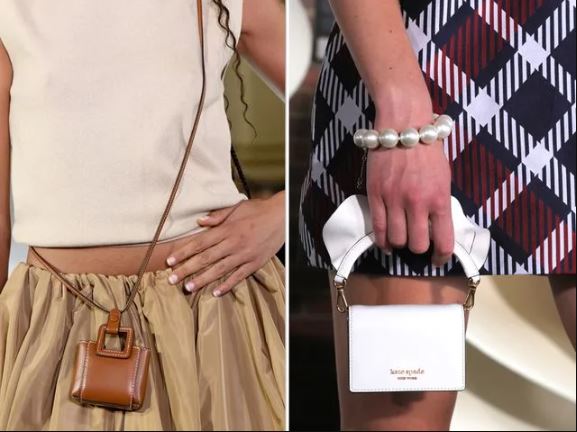 Getty Images
From left: Staud, Kate Spade.
Whether or not they're the most practical, there's no denying that mini bags aren't going anywhere. Last season's tiny purses were shrunken down even farther at shows including Staud and Kate Spade.
Gold-Dipped Baguettes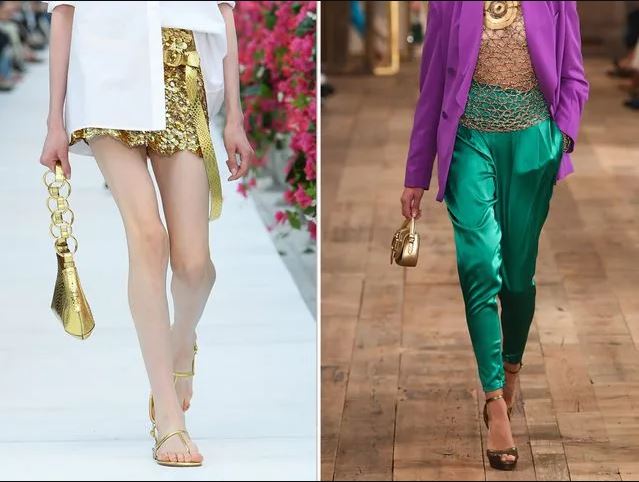 Getty Images
From left: Michael Kors, Ralph Lauren.
The '90s baguette silhouette appeared dipped in gold during this season's runway shows. At Michael Kors, gold hardware replaced the Y2K-inspired leather strap, while Ralph Lauren opted for a slightly shrunken silhouette.
A Perfect Match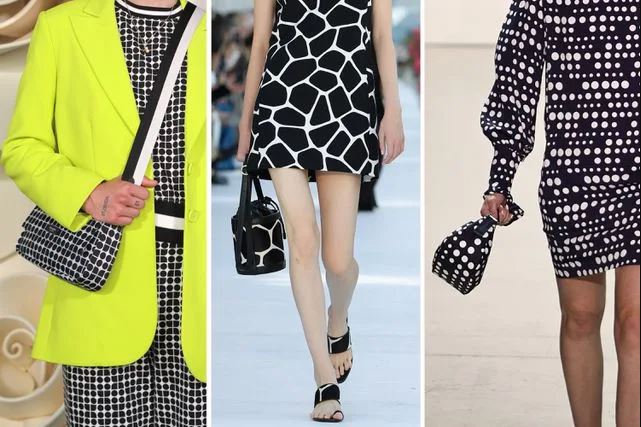 Getty Images
From left: Kate Spade, Michael Kors, Libertine.
Abandon any worries you've ever had about your accessories being too matchy-matchy. Designers including Kate Spade, Michael Kors, and Libertine dove head-first into overt pattern-matching. Sticking primarily to a black-and-white color palette with occasional pops of neon, the boldness of this trend is slightly softened by the classic silhouettes the prints appear on.
Crocodile Rock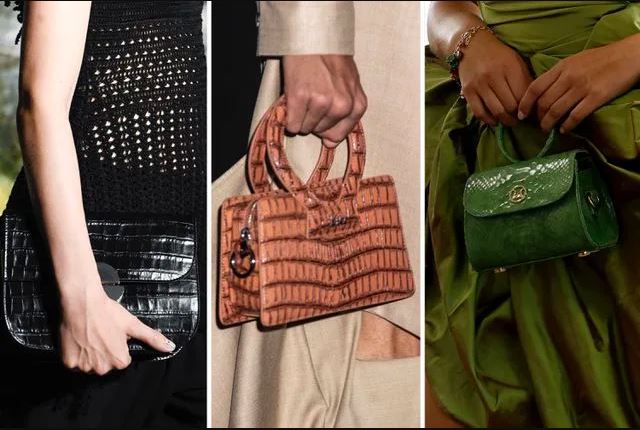 Getty Images
From left: Jason Wu, Luar, Flying Solo
One of NYFW's trendiest bag finishes was an ultra-shiny croc-embossed look. Jason Wu applied the texture to a chic and simple envelope clutch, Luar added the finish to its signature top handle purse, and Flying Solo used a crinkle croc effect on a sweet and shiny mini doctor bag.
Scaled Down Satchels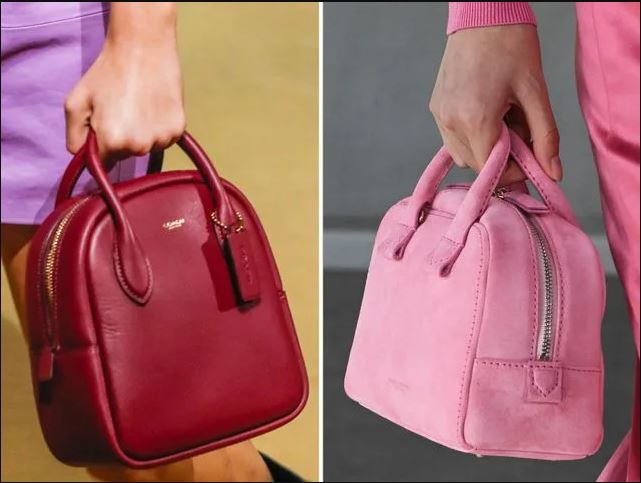 Getty Images
From left: Coach, Carolina Herrera
Satchels, a preppy aesthetic staple accessory, received a brightly colored update at Coach, Carolina Herrera, and Kate Spade. Designed in jewel-toned leather at Coach, pretty pastel suede at Caroline Herrera, and supple neon leather at Kate Spade, there's a shade for everyone when it comes to this well rounded classic bag trend.
The Raffia Remix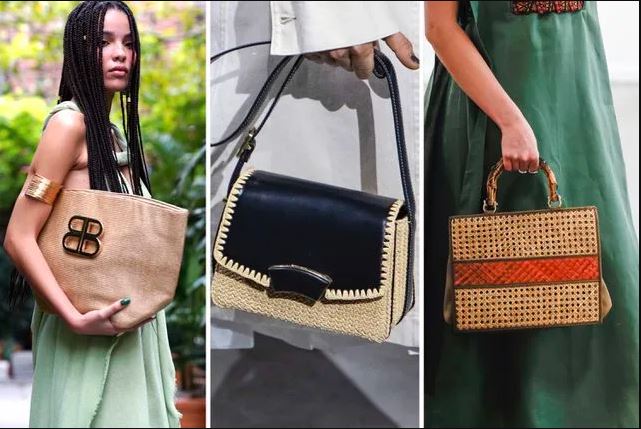 Sean Zanni, Getty Images
From left: Bronx and Banco, 3.1 Phillip Lim, Flying Solo.
Raffia bags are a warm-weather staple, and designers got creative this season by bringing the beloved material into unexpected silhouettes with contrasting details and hardware. Bronx and Banco went sleek, 3.1 Phillip Lim took a crisp, two-tone approach with layers of black leather, while Flying Solo applied vintage touches courtesy of warm wood details.
Hardshell Handle Bags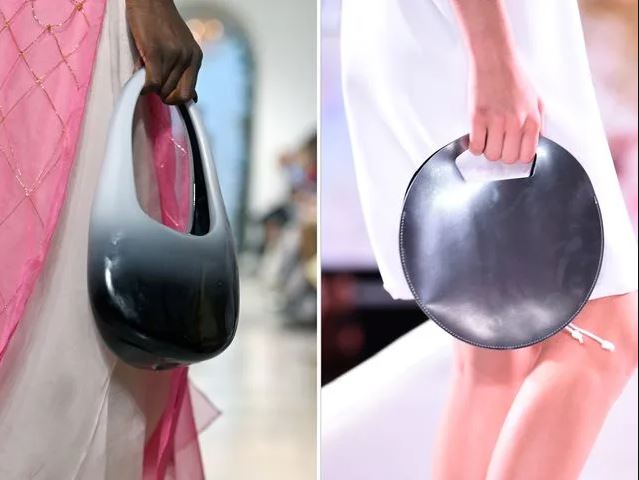 Getty Images
From left: Bibhu Mohapatra, Kött Kömm
At Bibhu Mohapatra and Kött Kömm, hardshell bags with uniquely lustrous looks were sent down the runways. The rough-hammered finish of Kött Kömm's circular clutch fell in step with the battle armor aesthetic seen this year at Haute Couture Fashion Week in Paris. Meanwhile, at Bibhu Mohapatra, the hardshell trend was realized in an ombré with all the glow of polished quartz crystal.
Circular Statement Clutches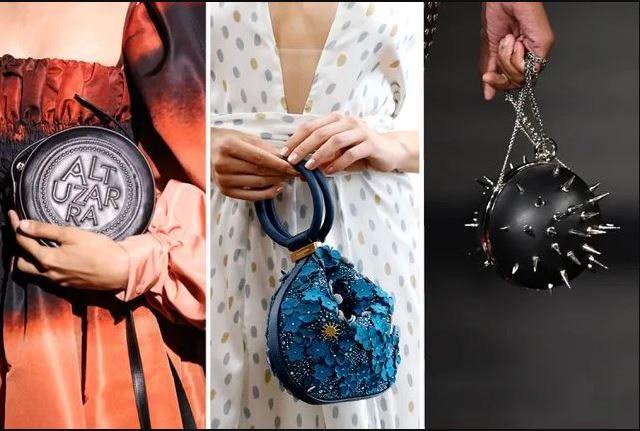 Getty Images
From left: Altuzarra, Flying Solo, Edher Gin
Spherical bags have been staging a comeback this year. While the circle bags spotted in Fall/Winter collections were almost all mini- and structured, this season offered more variety. Altuzarra sent smooth leather crossbody circle bags down the runway. Flying Solo took a petal-festooned, top-handle bag approach and Edher Gin delivered a playfully punk wrecking ball design.
She Sells Seashells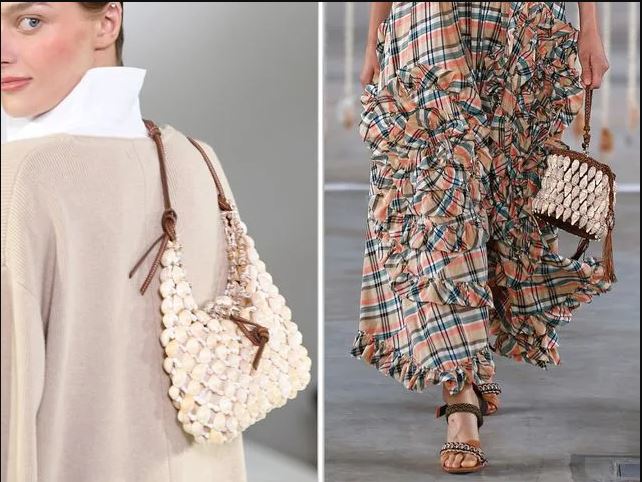 Getty Images
From left: Staud, Ulla Johnson
At Staud and Ulla Johnson, a crafty bag trend got us itching for one last weekend "down the shore." Opaque and lustrous seashells created both texture and print on brown leather purses with fringe and leather thong detailing.
Fashion-Forward Backpacks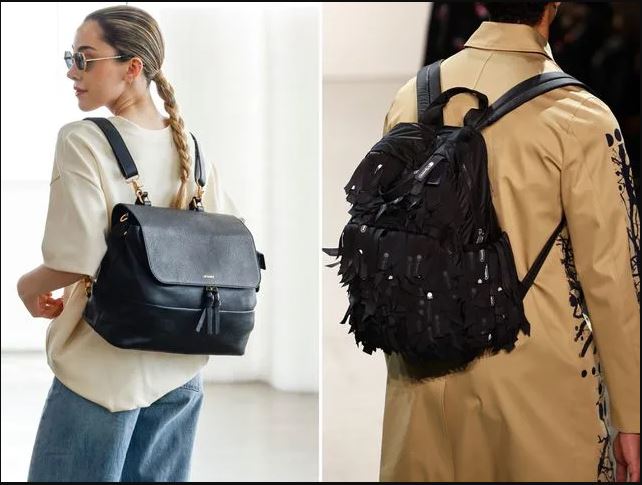 Getty Images
From left: Flying Solo, Libertine.
We weren't expecting to get into the back-to-school spirit during NYFW, but then Libertine and Flying Solo sent backpacks down the runway. These sleekly constructed and fringe-adorned accessories are a boon for those of us who prefer practical backpacks over stylish (but less ergonomic) tote bags for schlepping to and from work.
For more InStyle news, make sure to sign up for our newsletter!
Read the original article on InStyle.
Theo: Instyle.com
Có thể bạn quan tâm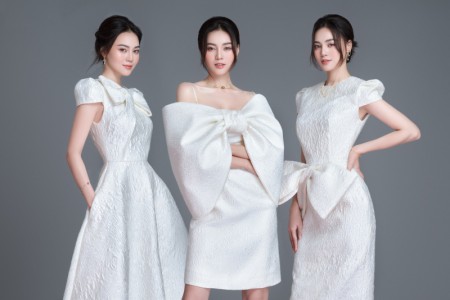 NINH DƯƠNG LAN NGỌC Là "NÀNG THƠ", Gương Mặt Đại Diện Của Thương Hiệu SIXDO